Rehab For Adolescents: Young People May Need Special Treatment Programs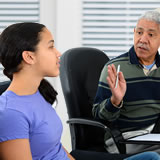 Drug and alcohol rehab programs for adolescents are acutely aware of the needs of their clients. These specialized programs effectively adapt their treatment methods to ensure that each program participant's recovery needs are met. Statistics show that 57% of the first time illegal drug users in 2010 were less than eighteen years of age. The need for early treatment is imperative during the adolescent's younger years because rates of substance use nearly doubles in young adults between the ages of eighteen and twenty-five.
Recovery from teen drug addiction is best handled by alcohol and drug rehab programs specializing in adolescents. These programs use expert medical and mental health professionals to assist in the rehabilitation process, ensuring the teen's physical, psychological and emotional needs are met. Treatment programs for adolescents range in rehabilitation methods, treatment lengths and intensity of care. Programs run the gambit from inpatient short-term programs, outpatient rehab, and partial hospitalization to long-term residential rehab centers.
Teen rehab centers treat more than just the adolescent's addiction issue; their services extend to helping the youth resolve any additional related needs that may potentially hinder their continued sobriety once they complete the program. One of the most significant parts of this specialized type of rehabilitation is counseling. There are a number of different types of counseling methods used to help teens overcome addiction and restore their relationship with their family. Some of the more common types of counseling found in drug rehab programs for adolescents include family counseling, cognitive behavioral therapy, contingency management and motivational interviewing.
A number of adolescents struggling with drug and alcohol addiction problems also suffer from mental health conditions. While counseling for mental health problems such as schizophrenia, depression, bipolar and anxiety is beneficial during the adolescent's time in treatment, the teen will likely require additional care from a psychologist or psychiatrist to formulate ongoing mental health care. In some cases, medication may be used to help the program participant manage their existing medical, mental or emotional health conditions. Medication is also used during teen drug rehab to prevent cravings and help the adolescent maintain sobriety.
Addiction treatment for adolescents has a number of benefits. Teens who receive early drug and alcohol addiction rehabilitation are far more likely to put substance abuse behind them, while gaining the personal skills to create the life they envision for themselves. These programs often work closely with the teen's family, helping to repair broken relationships and educate them on how to make day to day life run smoothly once their teen returns home.