Long-Term (Inpatient) Rehab: Recovery Is A Journey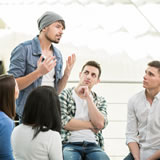 Long term inpatient treatment programs require the program participant to reside at the drug rehab center during their recovery process. On average, long term treatment is considered to last ninety days or longer, whereas short term inpatient programs typically go on for a week to one month. Due to the length of long term inpatient treatment, the recovering person undergoes a multifaceted treatment program. Today, there are several different types of long term inpatient treatment programs available including 12-step based rehabs, holistic programs, and spiritually based recovery treatment. Choosing the right type of program can be accomplished through speaking with several treatment programs and deciding which philosophy fits the recovering individual's views.
Through long term inpatient treatment's multifaceted approach to recovery the person is able to go through detoxification, address the underlying issues that lead to their addiction, become educated on addiction, as well as learn relapse prevention techniques. Furthermore, successful programs will include an aftercare or follow-up care program for their graduates. This helps the newly sober individual maintain their temperance through continued care while rebuilding their lives. Examples of common follow up care may include attending support groups, continued counseling or therapy, or even living in a sober living home after completing long term inpatient treatment.
When enrolling in a long term inpatient treatment facility the recovering individual can expect to undergo an intake process as well as an exam by a medical professional to ensure their physical ability to participate in the program. The staff will help settle the program participant into their residence and ensure they have any necessities they require. Many long term inpatient treatment centers are able to provide detoxification and withdrawal on site; while others have their clients complete this portion of recovery before enrolling in their facility. Undergoing detoxification is vital for the recovering person, this process ensures they have safely come off of drugs or alcohol and are ready to begin with the more emotional and psychological aspects of their rehabilitation program.
During the individual's time in treatment they will uncover the issues that drove them to abuse drugs or alcohol while addressing and resolving them. Handling these personal issues before completing treatment is a great benefit to the recovering person; it prevents these same issues from derailing their sobriety once they graduate from the program and return home. Many long term inpatient treatment programs will educate the program participant on addiction; how it affects them personally as well as those that love and care about them. Additionally, individual and group counseling are often part of the rehabilitation process and assist the person in coming to terms with the choices they have made and how to mend fences with their friends and family.
Long-Term (Inpatient) Treatment Locations