Rehab Programs Specially Designed to Treat Men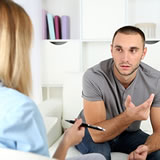 Science has shown that men and women struggle with addiction differently. With this in mind, there is now gender-specific treatment programs designed to address issues particular to just men. Addicted men who choose a men-only rehab may find that the treatment approaches used in these types of programs address their physical, emotional and social needs as a man. These specialized recovery programs take into consideration that men confront topics differently than women, they have gender-specific triggers and they may have acquired physical or psychosocial problems exclusive to men as an effect of their substance abuse.
Gender-specific treatment has been shown to make a difference in terms of lasting recovery. The National Institute on Drug Abuse notes that attending a drug rehab for men is effective in getting the specific areas of the male brain to respond to treatment. During the program, the client addresses risk factors specific to why men relapse after treatment. Additional topics addressed in a men only rehab include problems with violence, anger and self control issues. These topics are common problems among men in treatment. Handling such difficult subject matter while in recovery helps the program participant work through many of these feelings and develop coping strategies to avoid problems in the future. Often, one-on-one counseling and group therapy are used to help the program participant uncover these issues and begin working through them. Some men only programs include topics such as anger management, sexual concerns, and vocational rehabilitation. Addressing these topics without the presence of women around can make it easier for the client to focus on his recovery and feel comfortable sharing.
Today, there are a number of different male-oriented rehabilitation options available such as outpatient, inpatient, and residential as well as sober living homes. Factors to consider when choosing a program include location, duration, and follow-up care. Location often plays a critical role in determining whether the person will be comfortable enrolling in the rehab. Some persons prefer to remain close to home while others understand that distance is vital in being able to focus on their rehabilitation process. The duration of treatment is also a pivotal factor for potential program participants. There is a wide range of time frames for the many different programs in existence. Some short term men only rehab programs last only a few weeks to one month. On the other hand, long term residential or inpatient treatment programs may take sixty to ninety days to complete. Lastly, follow-up care is crucial to ensuring continued sobriety once the person completes treatment. The newly rehabilitated individual can choose to enter a sober living home for men, attend support group meetings, continue with counseling or all of the above. In the end, choosing a drug rehab for men will help the recovering individual feel more at ease during his recovery process while addressing issues specific to his gender.